Welcome!
Welcome to the official Win, Lose or Draw Wiki, a collaborative encyclopedia for everything and anything related to the all new, upcoming Disney Channel Original Gameshow, Win, Lose or Draw.
Today is the 22th of March and currently there are 451 edits to this wiki.
What is Win, Lose or Draw?
Win, Lose or Draw is a late 1980s game show that was co-created by Burt Reynolds. The new version will be kid and family-friendly and employ modern technology.
Justin Willman (Cupcake Wars) will host the revival, in which two teams — each comprised of two kid contestants and a Disney star — compete in a game of drawing skills and wit. The show will start production in July and premiere later this year.
In the original series, one player would be asked to draw a clue, while teammates must identify it before the clock ran out. This time, the players' drawing board will utilize motion control, interactive multi-touch screen displays and graphic technology.
It's a return to the genre for Disney Channel, which hasn't regularly aired game shows in at least a decade. In the late 1990s, Disney Channel ran game shows such as Off the Wall, Mad Libs and Z Games, but more recently has focused on scripted fare.
Latest Episode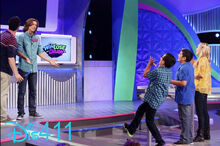 "
Olivia and Leo
"
Olivia Holt and Leo Howard starred in the first look of Win, Lose or Draw. Guess and Swap,Obstacle course, and Final Chance.